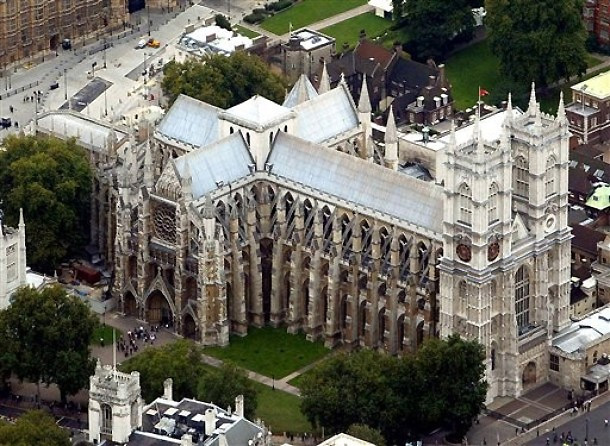 Westminster Abbey is rightfully considered to be one of the main sights of London. The history of Westminster began in 1065 when Edward the Confessor founded Benedectine Abbey at the place of the church which had existed there. Westminster Abbey had been acquiring its present appearance since the XIII century, in the times of Henry III, its construction was over only in the XVI century.
Members of the English royal dynasties were crowned in the church and found eternal repose there. Since the VII century great people who didn't belong to the royal family have been buried at this place too: Newton, Darwin, Dickens, Shakespeare, Chaucer, the Tomb of the Unknown Soldier is also here (in memory of the victims of World War 1). Gravestones have been installed in the Abbey since the eighteenth century.
The architectural style of Westminster Abbey is early Gothic which actually looks more French than English.
Its appearance has been gradually changing – some old stained-glass windows were removed, decorations at some places were renewed after refurbishments. Stone lace carving, mosaic on the floor, awesome stained-glass windows, soaring spires, pointed arches – the whole building looks weightless despite its huge dimensions.
The abundance of air and light excites general admiration.
The construction of the present-day Abbey began from the eastern side where the church built by Edward was placed.
In the middle of the XIII century the Chapter House was being used for monastery conferences, in the end of the same century it became the place for meetings of the Commons, since the XVI century it became the property of the Crown, and in the XIX century it turned into the place of the archive storage.
The Chapel of Henry VII
 is an architectural example of late Gothic, the most subtle part of St. Paul's Cathedral in Westminster.
The true pride of the Abbey and the pinnacle achievement of late Gothic is fan-vaults with pendants. When you see this incredible carving it looks as was made by skillful lace-makers.
Many sculptural monuments along the walls and the banners of the Knights also beautify the Abbey. The throne for coronation with the Stone of Destiny, Edward I Shield, benches from carved wood – all together complement the festive atmosphere of the grand construction.


Общайтесь со мной:
Похожие статьи: