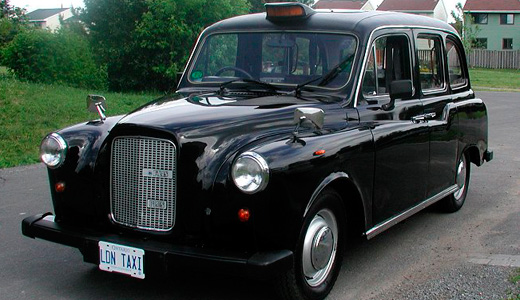 The world-known London taxi black cab has its own history, culture and traditions. Black cab is one of the symbols of London in addition to red double-deck buses, telephone booths and Big Ben. The history of the English taxi started in 1639 when coachmen united to create their own licensed Corporation. Initially they used four-wheeled carriages, but already in the 1850s there appeared more manoeuvring open two-wheeled carts on the streets of London – they were called cabriolets (here is where the word "cab" originates from).  
In the beginning of the twentieth century they started to make special cars for London taxi. All those cars had built-in taximeters which gave name to taxi-cabs.
A London cab of nowadays has inherited its silhouette from Austin FX3 1948. High body of the vehicle is traditionally of black color; the car has a partition inside to separate a driver from passengers. There is an unwritten law in England: "nothing should make a gentleman uncover his head even if he gets into a taxi".
The modern model of the TX cab has been used since 1997 looking almost the same for nearly a century. Drivers of London cabs are always specially trained, they have to know the city like the palms of their hands to replace a guide for curious passengers, if necessary.
Общайтесь со мной:
Похожие статьи: